forever_wandering
I was packing my suitcase and I found my old camera! Back in March, I accidently got some sand in to the lense and the camera stopped working, but yesterday, I went to turn it on for old time's sake, and it worked! It's already an old 12 mega-pixel camera, but I've had so many adventures with it that I feel I can't just throw it away so easily.
スーツケースを荷造りしていた時、7ヶ月前に壊れちゃったカメラを見付けました!さっき、友達と海へ行って、カメラも持っていきました。砂がレーンズに入っちゃって、カメラが使えなくなりました。そのカメラを使うのはちょっと懐かしかったから、オンのボタンを押してみると、何気にカメラが付きました!!びっくりして、嬉しかったです!実は、このカメラはもう古いのです。12メガピクセルしかないんですけど・・・・このカメラと色々な冒険があったし、簡単に捨てる物じゃない。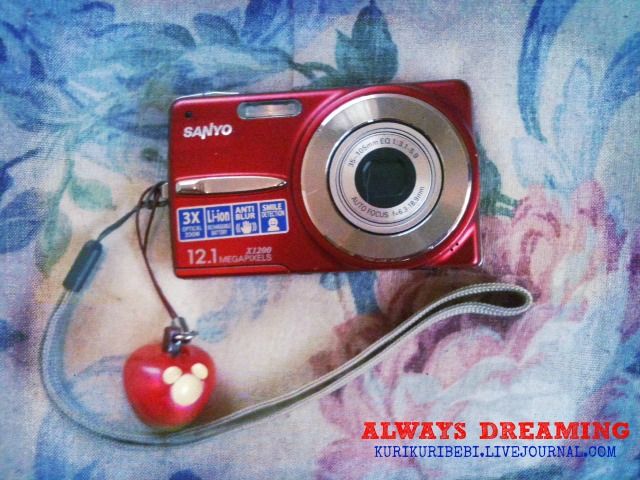 But....I've also been eyeing a certain Nikon camera for a while now, but it's still 45000円 and only 10 megapixels, which is less than what my camera now is... But this camera is still a best seller, so despite the low MPX it must be good.... Maybe when I finally reach my goal weight, I'll buy this for myself!
でも、そうは言っても、新しいカメラを購入したいと思います。しかし、気に入ったカメラのメガピクセルは今のカメラのより低くて、値段はまだ高過ぎています。今のカメラは12メガピクセルで、値段は16000円ぐらいでした。好きになったカメラは10メガピクセルで、45500円ぐらいです。それなのに、そのカメラはベストセラーですよ。とりあえず、購入しない方が良いと思っています。たぶん、もっと痩せたら、自分にプレゼントします!
I went to a haunted house event with my friend and it was really fun! I screamed alot, my throat started hurting and now I've lost my voice but I feel satisfied, lol. We didn't have time to go in to all six houses, but the three that we went to were fairly scary, so we didn't mind that we didn't get to see everything. I had wanted to take a lot of pictures, but I was always running from some kind of zombie or monster, so I couldn't really take any pictures (Unless you include all the blurs and finger shots! lol)
友達と一緒にお化け屋敷へ行って来て、すごく楽しかったです!悲鳴を上げ過ぎて、喉が痛く、声が出せないんですけど、満足な気持ちがあります(笑) 全部の6軒のお化け屋敷に入るには時間が足りませんでした。でも、3軒の入った場所はかなり怖かったので、全部のお化け屋敷に入られなくても気になりません。たくさん写真を撮りたかったけど、いつもお化けから逃げていたし、写真が撮れませんでした(笑)
Before the event started, we got to preview the Christmas event. The event starts next month and lasts until December, so I probably have time to visit it before I go back to Japan soon!
そのイベントが始まる前、クリスマスのイベントを予告篇できました!イベントは来月の20日から12月22日までです。来月始まるから、日本に戻る前に、イベントへ行く時間があるかもしれません!
読んでくれて、ありがとうございました!
♥
♡Zia
♡
♥