Since I'm trying to lose weight, I make a habit of eating home-cooked meals as opposed to eating out. During my mini-vacation with Mugen though, we ate out quite a bit and I can feel that I've put on weight, even though it doesn't show.

And it doesn't help that Mugen gave me an awesome box of chocolates made with all sorts of unusual ingredients.

Ginger, Wasabi, Black Sesame.
Hickory Uncured Bacon, Alderwood Smoked Salt.
Mexican Ancho & Chipotle Chillies and Ceylon Cinnamon.
Oaxacan Guajillo y Pasilla Chillies.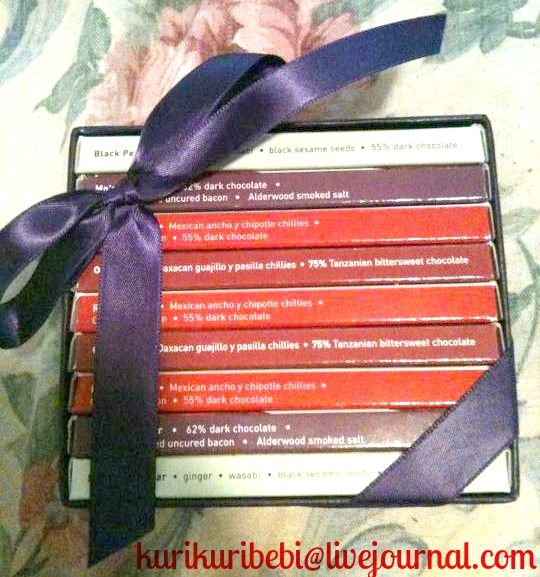 So far, I've only tried one of the Ginger, Wasabi and Black Sesame chocolates. I thought it would taste disgusting, but it actually wasn't bad at all!

Anyway, we decided to go hang out at a water park since the weather was nice and the tickets were cheap. Even though I wore SPF +50 sunblock, I still got sunburnt! Since we arrived early, we had time to get on all the rides. My favorite one was a slide where as you near the end, the tubes become transparent and you can see real dolphins swimming around you as you go down. After we got on everything, we relaxed near the pool.
Aaaah, so much fun!!
読んでくれて、ありがとうございました!
♥
♡Zia
♡
♥